TONY JOHN
Poet Extraordinaire, Writer & Vocal Artist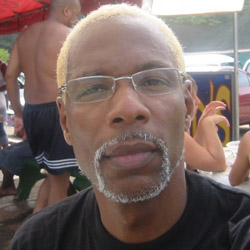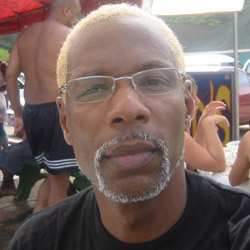 This extroverted Gemini claims that his musical education began literally at his father's feet listening to Voice of America's Jazz Hour hosted by the 'silver-throat' Willis Carnover who did as much to popularise Jazz as any of the early jazz icons like Duke Ellington, Sarah Vaughan, Billie Holliday, Charlie Parker, Benny Goodman and others. This education came to a peak in the winter of 2005/06 when he spent five months in Guinea studying the djembe. Tony's taken part in many workshops with djembe masters including Mamady Keita, M'Bemba Bangoura and at Moustapha Bangouraís annual conference in Chicago.
Over the last few years Tony has been a member of the Afropan Steelband Stage Side and has also found time to freelance as a djembe performer at various events around Toronto.  Tony is additionally a brilliant and profound writer, with an equal performance level.  Having grown up in a heavily literature rooted family, language comes naturally to him with the equal ability to express it in performance!
Tony says with a loud chuckle, "I never believed that I could be a musician, so even though there were opportunities for me to become a member of various bands. I always shied away from fear of failure. Now that I have some training I get a deep sense of satisfaction from performing and seeing people smile or dance when they hear our music."
He swears his best moment so far was when at the official launch of Rhythm+, when the audience called for an encore. After that it would be when he traveled around Conakry and Guinea playing accompanying djembe with his teacher's wedding band.
---
Tony desires to make the djembe a mainstream instrument that can be purchased in any store such as Wal-Mart or Sears. His favorite quote is "Do unto others as you would have them do unto you."