SHELLEY HAMILTON
Singer, Harmonizing Goddess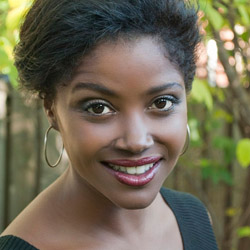 Shelley has sung in Dubai, Japan, Holland, the Caribbean, as well as across Canada and the U.S. She is also a member of The Delightful Divas along with Tricia Williams and Phyllis Hamilton. Her performances in the Africville Suite concert with Joe Sealy at Neptune Theatre in Halifax and the 25th Anniversary of the Black Cultural Centre also in Halifax brought her back to her hometown roots.
While in Toronto, Shelley's magnificent vocals have been heard in the Classic Albums Live series of concerts and has also written and toured her one woman play, "A New Hope" and is a winner of the African Nova Scotian Music Association's Artist of the Year for 2008/09.
Most recently, her May 2011 musical variety show  "Grace" was awarded with standing ovations, as was her work with "A New Hope"  when it was presented in Nova Scotia for the African Diaspora Conference, and she was honoured that her song "Connected", co-written with Diane Leah, was performed for thousands by the MCC choir in memory of Jack Layton at his funeral service.