DONALD BROWN
Songwriter, Guitar Arrangement & Performance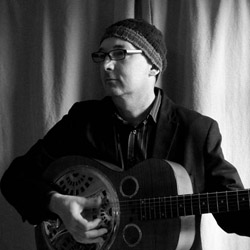 Born in Toronto in 1962, Donald was welcomed into a close knit and creative family.  At the age of 16, he started to study classical guitar under the instruction of Eli Kassner.  He started writing songs shortly after, playing in bands by the age of 17.  Donald then went on to independently study jazz and blues.
Inspired by T.S. Eliot, Ezra Pound, Tom Waits, and Leonard Cohen, Donald started journaling and incorporating his writings into his songs. During a stint in Quebec City, Donald's writing moved into the poetic, and this shift re-inspired his songwriting by adding a new dimension to his work.
Donald's primary focus for much of his life has been his family, but he continued to keep working on music and songwriting during that time. Writing mostly in solitude, Donald practiced his craft for many years before he recently started recording on a serious level.  After a few collaborations, he connected with a producer/musician who could help him realize his songs as complete works.
Now, at the age of 50, Donald is finally emerging onto the music scene with a big splash as his songs are starting to get attention and recognition.  He is currently in the process of working towards recording his first album.  He also intends to make his songs available for other artists who wish to record them, as his primary focus remains being a songwriter.
Donald is a regular performer at the Ontario Poetry Society.